Flat, white sands beneath smooth turquoise waters that make you think you just arrived in heaven. Aitutaki stunning triangle-shaped lagoon is created by a coral reef that rises 400 meters from the bottom of the Pacific Ocean and surrounds a group of many volcanic and coral isles splattered with green palm trees everywhere.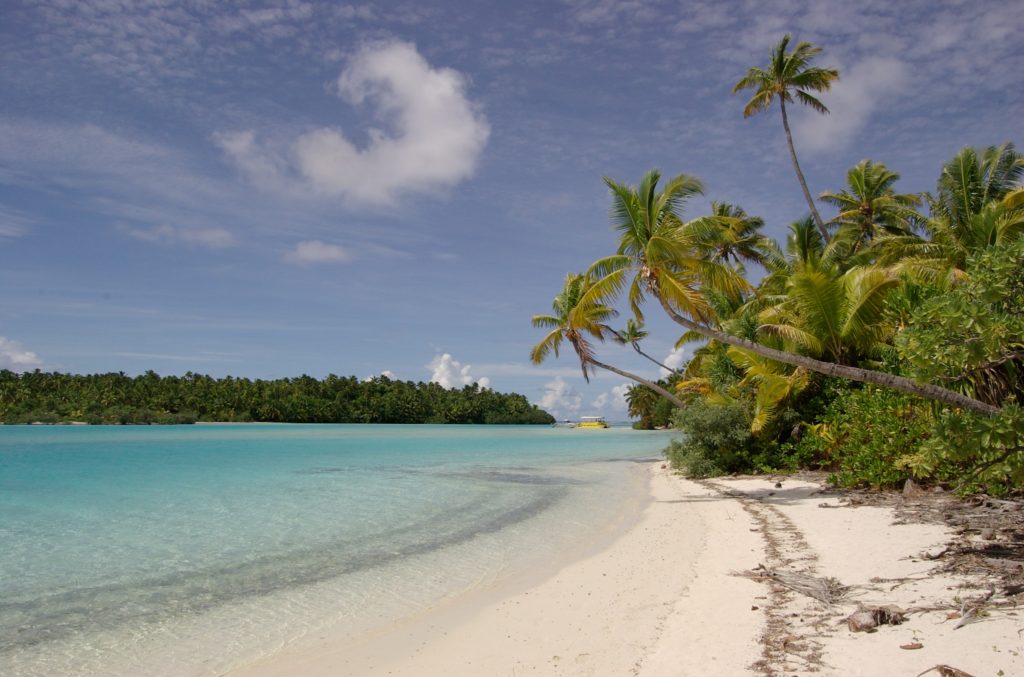 Location and people
Aitutaki is one of the Cook Islands located north of Rarotonga, the most populated on the archipelago.
The Cook Islands consist of 15 small islands that spread out onto a total land area of 236 kilometers, even though they take on a large area of sea. They are considered a country and are located in the South Pacific Ocean, northeast of New Zealand, which takes care of their defense and foreign affairs.
There are about 18.000 inhabitants and most of them are of Polynesian descent. They all seem to know each other and are very kind to everyone. No matter what they are busy on, they won't miss the chance to say hi to any random tourist walking by. You will even find people offering you a ride if they see you taking a walk.
Weather
One of Aitutaki's biggest charms is the ever-sunny weather. Temperatures don't change much throughout the year, and it actually gets more sun and less rain than the populated Rarotonga.
Another one of its main traits is the uncanny calm waters. Since the lagoon is an "almost atoll" -a coral reef that surrounds a lagoon-, its coral outer edge prevents the sometimes stormy waters of the southern Pacific from going in. Even though the clashing point is a white edge of breaking waves, the lagoon remains smooth and peaceful with just a few little waves breaking in once in a while.
The bottom of the lagoon is completely visible thanks to the striking clear waters that allow you to see every clam, ray, and turtle under the sea, no matter how deep the water is.
Aitutaki's motus
This little lagoon holds the main island of Aitutaki, two small sand cays, and fifteen isles or motus. Although most people are drawn to Aitutaki, each little motu has a different charm. For all the people that want to get the full experience and visit them all, getting a lagoon tour is actually very easy, any hotel you book will be able to help you organize it.
One of the isles you must visit is the tropical Tapuaetai or One Foot Island. This spectacular motu is surrounded by palm trees and the sand is so white they can leave you momentarily blind. It's the only motu that is populated so you will find little bars and shops, and a small post office that will officially stamp down in your passport that you've been to heaven.
Motorakau, one of the volcanic isles, was even picked as the filming location for a British reality show. You can take a nice stroll and tour the entire motu in 10 minutes. However, take your time and admire the clear beaches and surrounding palm trees that almost seem to lay down over the water.
Honeymoon Island is one of the newest motus and it seems to hide in one of the shallowest parts of the lagoon. Since it's not old enough to grow trees, it only has many bushes that actually house nesting terns. Almost every bush protects a little feathery chick waiting for its parents to come back to feed it. However, the Pacific brings stray coconuts from other motus to Honeymoon Island, so it's only a matter of time until this motu grows some palm trees just like its companions.
How to get there? Where can I stay?
Rarotonga, the Cook Islands archipelago's capital island, holds the Air Rarotonga airport, which flies to Aitutaki up to five times each day. You can visit Aitutaki on a day trip, but we recommend you to stay at least a few days. There are different accommodation options, such as the exquisite Aitutaki Pacific Resort and the inexpensive communal huts on the beach. Visit www.cookislands.travel for more information on this beautiful paradise.